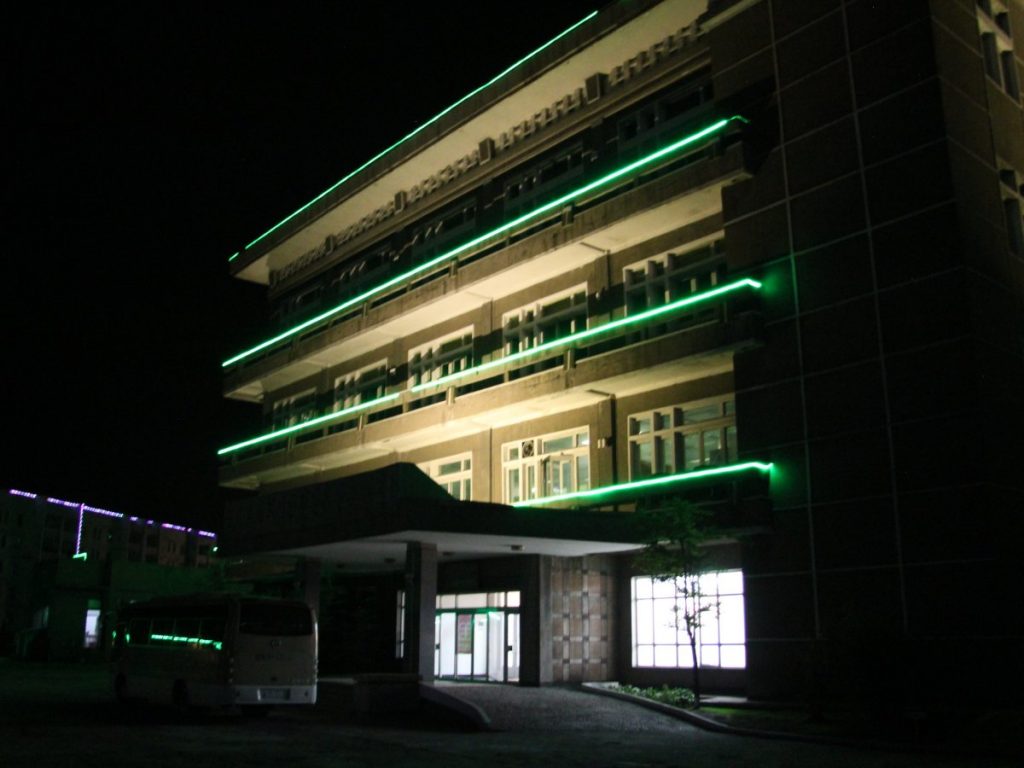 I Had A Scary Encounter With North Korea's Crumbling Healthcare System
---
I saw North Korea's notorious healthcare system first-hand when I got sick on a recent trip to the rogue state. Although they took good care of me, I'm glad that I was a Westerner and that I was not sicker.
Once well-respected, North Korea's health infrastructure is "crumbling" and "in dire need of help," according to Amnesty International. The country spent less on healthcare per capita than any other country in 2009  — under US$1 — according to the World Health Organization. Meanwhile, pervasive malnutrition has led to a tuberculosis epidemic, while infant mortality rates are far higher than neighboring South Korea, among other health crises.
The North Korean government denies there's a problem, instead repeating unconvincing claims about providing free, state-of-the-art care for all of its 25 million people.
Getting Sick
My encounter with the system came toward the end of my eight-day visit in June 2013, when I was traveling through rural North Korea under the guise of a tourist, not letting on to customs agents that I was a journalist.
I was at a hotel on the edge of Kyongsong when I jolted awake with the worst stomach cramp I'd ever experienced. Next came the chills, so numbing I threw on my thickest jacket, a sweater, and two more shirts under that. It was almost 70 degrees Fahrenheit outside. Severe headaches followed and then diarrhea that wouldn't stop.
Raymond CunninghamThe Seaman's Bar in Chongjin.
I was rushed to the regional capital of Chongjin, about half an hour away by car, where I was ushered by several people into a small room at the back of a place called the Seamen's Bar, which, yes, serves as both bar and medical facility. Forced to lie down, I was hooked up to an IV tube. Needles have always terrified me, but I was even more frightened because I didn't know what was happening. Eventually, the swarm of doctors and nurses left me alone with a single nurse, who kneaded my sweaty forehead. Somehow I fell asleep.
Waking several hours later, the first thing I noticed was that everyone was gone, save for a large man in his early 40s whose floppy black hair was the very thing the public service campaign "Let's trim our hair in accordance with the socialist lifestyle" warned against. My head was still spinning as a nurse came in carrying a tray of scalding tea and porridge. I pretended to make an effort to drink and eat before lying back down,
Raymond Cunningham
When I woke again, I was feeling better and forced myself to eat and drink some of the now-cold tea and porridge. Before long the Korean guide and foreign tour manager of the tour group I'd embedded myself with re-entered, both beaming and apparently relieved that I was recovering. But we had to leave as soon as possible, they said. Told to drink lots of water, eat salty foods and to take it easy as the IV was finally removed from my arm, I bowed in respect to thank the medical staff as I stumbled out of the Seamen's Bar and was ushered into a waiting minibus.
[Editor's note: Ben's account of getting sick was confirmed by another person on his trip, Ray Cunningham, a photographer, lecturer on North Korean history, and director of records services at University of Illinois at Urbana-Champaign.]
Though the diarrhea would last for a few more days, I would not need another IV treatment. I was out of North Korea three days later, flying from Yanji, China to Beijing before continuing on to Berlin. Once back home, I visited a doctor to see if I needed any follow-up treatment. I had heard the word "dysentery" repeatedly while I was sick in North Korea. The doctor said though it was possible that was what I had been afflicted with, since I was retaining fluids again, I did not require follow-up treatment.
I survived getting sick in North Korea, but what about people who live there year round?
A Crumbling System
Dysentery may seem like a distant memory in the developed world, but in North Korea, where medical supplies are scarce and competent doctors even scarcer, the disease marked by severe diarrhea and a loss of fluids is a very real public health problem.
Raymond Cunningham
"The reality is basic healthcare is very hard to obtain," says Greg Scarlatoiu, executive director of the U.S.-based Committee for Human Rights in North Korea. "Shortages of medicine and blood supplies, especially in rural areas, has not helped."
Another big problem is corruption.
"Doctors are now often charging for their services, and people are getting turned away if they can't pay," says Scarlatoiu.
At one point, North Korea's healthcare system was considered laudable. The country had set up an army of household doctors, each responsible for basic health within local communities. Child immunization campaigns and promotion of healthy habits led to a system that in the 1960s boasted more hospital beds and a lower infant mortality rate than South Korea.
Over time, however, North Korea suffered from a stagnant economy and increasing isolation, notably following the fall of the Soviet Union and severe sanctions from the West, and now the average North Korean can expect to live a decade less than their southern neighbors.
Exactly how bad things are is hard to say.
Raymond Cunningham
Amnesty's horrifying report, which described hospitals where hypodermic needles were not sterilized and sheets were not regularly washed, was criticized by the WHO for relying entirely on statements from people who were not in the country. Conversely, when WHO Director-General Margaret Chan visited North Korea in April 2010, she called its health system the envy of the developing world.
At least medical training for doctors and nurses is considered adequate by international standards, according to Francis Markus, International Federation of Red Cross and Red Crescent Societies spokesperson for East Asia. "The DPRK [Democratic People's Republic of Korea] doctors and nurses with whom we have contact are dedicated and skilled professionals within their context," he says. "But ongoing training of doctors and nurses is an important component of our health program, because clearly they can benefit from updated knowledge and techniques which are not necessarily available within the DPRK context."
The problem is that foreigners, even sick ones like myself, generally only see a carefully orchestrated version of North Korean healthcare.
When AP reporters visited Pyongyang's supposedly sophisticated new maternity hospital in February 2009, they couldn't help but notice that it was frigidly cold inside, with patients wearing gloves, coats, and scarves during exams and nurses wearing matching white snow pants and jackets. Meanwhile, despite the presence of high-tech equipment like Siemens scanners, there were '70s-era phones and other antiquated equipment that appeared to date to when the Soviet Union was the country's main supplier. And if such a high-profile hospital was struggling, then how bad would things be in the rest of the country?
North Korea, of course, denies any letdown.
Raymond Cunningham A premature baby lies in an incubator at the Pyongyang Maternity Hospital.
"Under the profound loving care of General Secretary Kim Jong-Il the hospital has a well-regulated system whereby women in childbed are provided with wild honey and efficacious medicines by the state free of charge," writes the state-run Korean Central News Agency (KCNA) in a 2009 report on the hospital, adding that it is "An icon of socialism as it translates the beautiful dream of human beings into a reality."
The report also claims that over 6 million women have given birth at the hospital, including more than 7,000 foreigners. The number has not been independently verified.
A more significant number is North Korea's infant mortality rate, which remains startlingly high at 24.5 deaths per 1,000, nearly four times as high as the U.S. and more than six times higher than South Korea, according to the CIA World Factbook.
A further 25% of children under the age of 5 suffered from chronic malnutrition in 2012, according to the National Nutrition Survey of North Korea, a report backed by UNICEF, the World Food Program, and World Health Organization. The report added nearly one in three women were anemic.
Benjamin MackB-side ambulances in Pyongyang.
More evidence of a struggling health system can be seen on the streets of Pyongyang, where ambulances may be retrofitted white vans with lights mounted on top. Occasionally missing hubcaps, gas tanks on the vehicles may be locked with a key to prevent fuel from being stolen. And even these vehicles are difficult to spot in North Hamgyong Province cities such as Hoeryong.
Some North Korean officials appear to recognize the healthcare challenges facing their country and to be open to international assistance, public health experts Espen Bjertness and Ahmed Ali Madar of the University of Oslo concluded in an April article in The Lancet. But, they add, "Several international organizations have been engaged in North Korea for many years, and still there are grave, morally unacceptable, health inequities in the country."
Meanwhile, the healthcare system clings to propaganda.
It is not infrequent for Supreme Leader Kim Jong Un to visit healthcare facilities, offering on-the-spot "guidance" for improving care. In May, just days after the government apologized for the collapse of a Pyongyang apartment building that may have killed hundreds, Kim and wife Ri Sol Ju visited the Taesongsan General Hospital in Pyongyang. Photos of Kim walking through brightly lit halls in a white medical coat filled the newspapers, which also showed healthy-looking children eagerly clinging to the leader's arms, accompanied by equally jovial doctors, nurses, and men in military uniforms. According to the KCNA report, Kim's "Eyes shone with tears when he lulled them clinging to his sleeves, reluctant to part with him."
KCNAKim Jong-un's latest hospital propaganda.
Ben Mack is an American journalist based in Berlin, Germany. A 2012 graduate of Boise State University, he has written for outlets including Deutsche Welle, Air India Magazine, The Local Sweden and The Hillsboro Argus. You can follow him on Twitter @benaroundearth or check out his blog at Ben Around Earth.
---
---