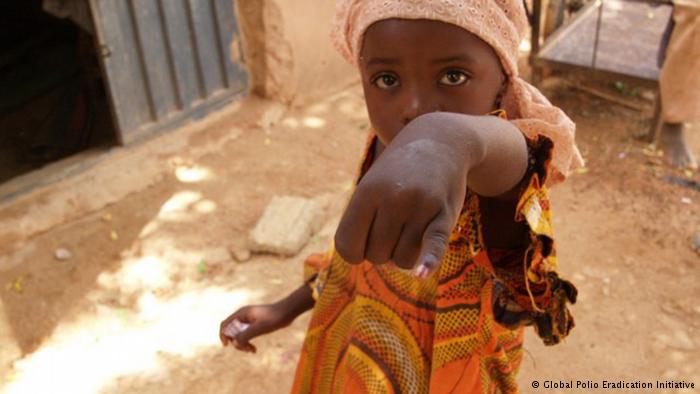 Threat of polio re-emerges in Nigeria
---
Threat of polio re-emerges in Nigeria
On World Polio day, the disease is now just a distant memory in most countries. It remains endemic in only three nations worldwide, although infections are on the increase in one of them – Nigeria.
Polio, short for poliomyelitis, is one of the most debilitating diseases known. Attacking the gray area of the spinal cord, it can paralyze victims or render them unable to breathe on their own, trapped in an "iron lung" for the rest of their lives.
In 1988, when modern eradication efforts began, it was endemic in 125 countries, according to the World Health Organization (WHO). Today, that number is down to three: Afghanistan, Pakistan and Nigeria.
Global concerns
But polio is on the rise in Nigeria. In 2010, the country registered 11 new cases. So far this year, there have been at least 90, accounting for more than half the total number of cases reported worldwide.
And the international community is taking notice.
Without enough ice to keep vaccines cool, operational issues have plagued eradication efforts in the north
"In all of Africa, Nigeria is the only country which is still endemic to polio," Oliver Rosenbauer, a spokesperson for WHO's Global Polio Eradication Initiative, told DW. "Even most of Nigeria is polio-free. It's really only concentrated in the north of the country."
But there is the risk of the highly contagious disease spreading, Rosenbauer explained
"We've seen this before, when polio from northern Nigeria has spread throughout West Africa," he said. "Given that there are large-scale population movements in West Africa, this risk is very real."
While efforts have been made to vaccinate children – the primary victims of polio – progress has been slow.
Vaccination efforts have been hampered by a variety of factors, according to Professor Umaru Pate from the University of Maiduguri in northeast Nigeria. Some Nigerians, he said, have not been vaccinated because they are either hard to reach or because of a belief that the vaccine is harmful.
"The challenge is we have to find ways to reach those people," he told DW, noting that part of the issue is poor infrastructure and corruption.
Lack of government services
As a result, large numbers of children have not been vaccinated. An August assessment by UNICEF identified more than 15,000 Nigerian children who have not been immunized against polio.
In Nigeria, polio is more likely to occur in areas where people lack government services, according to WHO.
Operational issues such as vaccination teams without maps and addresses or enough ice to keep the vaccine cool are just a few problems that have plagued eradication efforts, according to Rosenbauer.
Immunization campaigns, he added, are often poorly planned and implemented.
Add to that the financial difficulties. A new WHO action plan for Nigeria for the coming 14 months has secured only half the necessary funding so far, according to Rosenbauer.
And WHO isn't alone.
Financial gaps for funding eradication efforts "are a significant constraint right now," Sherine Guirguis, a UNICEF spokesperson dealing with polio, told DW. "We have a funding gap over $700 million (540 million euros) to take us through the next year."
In Nigeria, polio vaccinations are usually given in the form of oral drops
Another obstacle toward eradication has been mistrust toward vaccinations. In 2003, three Nigerian states boycotted polio vaccination efforts, with religious and political leaders decrying the campaigns as a plot to cause infertility and spread AIDS.
More recently, some Muslim clerics in Nigeria have denounced vaccination efforts as a CIA plot, citing a vaccination campaign in Pakistan that was secretly used to locate former al Qaeda leader Osama bin Laden.
Violence in northern Nigeria hasn't helped, either.
Attacks linked to Boko Haram, a Nigerian terrorist group, have left more than 2,800 people dead since 2009, with some of the violence apparently aimed at thwarting vaccination efforts.
In an incident reported by Nigerian news outlet PM News, two police officers charged with protecting polio immunization officials were shot dead by gunmen thought to be affiliated with Boko Haram on October 9.
Rosenbauer said such "instability certainly doesn't help" vaccination efforts.
Aggressive eradication
Thirteen cases of polio have been reported in Nigeria since the beginning of September. New laws, such as those in the states of Kwara and Niger that mandate immunization, have had some effect in increasing the number of children being vaccinated.
An aggressive eradication effort by Nigerian President Goodluck Jonathan and state governments, aimed at engaging traditional and religious leaders, has also had success.
One of them is Ameen Al-Deen Abubakar, a cleric who originally opposed vaccinations but now supports them.
"I am a public leader," he told DW. "Therefore, I should help my community. Polio is a killing disease. It is a disease which is very difficult to cure. So I am supporting vaccination."
The increased cooperation is a cause for optimism among some Nigerians.
"I am very optimistic given the efforts being put into the campaign now," said the University of Maiduguri's Pate. "I can say with some level of confidence that we are heading towards eradicating polio in the country."
Despite the increased awareness of the need for vaccinating children, Rosenbauer stressed the need to continue eradication efforts.
"We are at the lowest levels ever with polio," he said. "If we do not capitalize on this opportunity now, within 10 years we're going to again see 200,000 cases every single year. That's simply a humanitarian catastrophe that has to be prevented at all costs."
---
---